Seit Mittwoch ist die neue
Games Aktuell
beim Zeitschriftenhändler erhältlich. Die Ausgabe beinhaltet mindestens zwei Pflichtkaufthemen.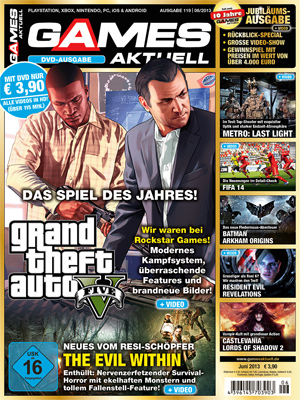 Zum einen, gibt es neustes Hintergrundwissen zum kommenden Blockbuster
Grand Theft Auto V
und zwar auf über acht Seiten!
Games Aktuell
war vor gut einem Monat bei
Rockstar Games in New York
und konnte das Spiel bereits zum zweiten Mal erleben!
Des Weiteren ist dies die Jubiläumsausgabe der
Games Aktuell
.
Seit nun zehn Jahren ist das Magazin erhältlich
und neben einem Gewinnspiel mit Preisen im Wert von
über 4000 Euro
, gibt es zudem noch ein Rückblick auf das vergangene Jahrzehnt, sowohl in Textform, wie auch auf der DVD-Ausgabe in einem Video.
Herzlichen Glückwunsch zum Geburtstag!
Weitere Themen in diesem Magazin sind unter anderem Vorschauen zu
The Evil Within
Batman: Arkham Origins
FIFA 14v
Castlevania: Lords of Shadow 2
Lost Planet 3
Remember Me
Final Fantasy 14: A Realm Reborn
sowie Tests zu
Metro: Last Light
Resident Evil: Revelations
Far Cry 3: Blood Dragon
The Walking Dead
Persona 4: Arena
Star Trek
Donkey Kong Country Returns 3D
und vielen weiteren Spielen. Es ist also für jeden etwas dabei.
Die Ausgabe 06/2013 kostet in der DVD-Fassung nur
3,90 Euro
und die Fassung ohne DVD nur
2,99 Euro
.